Welcome to Thomas Cavanagh Music. The one stop web source for all of Thomas Cavanagh's bands, albums, tour dates, news and lessons. Enjoy!
If you want to see a list of upcoming performances go to the EVENTS & Tour Dates above!
About Thomas Michael Cavanagh
Thomas Michael Cavanagh is an American Musician and songwriter who is best known for his playing for artists such as Lita Ford, Jerry Jemott, Eddie O'Jeda, Dee Harris, Christine Vaskas and equally known for his work with The Levititown Garage Band, Bent Pussycat, TC Kross, The Backseat Devils, The Motor Parkway Blues Band, Wardance, The Mean Blue Spirit,  The Sons Of Infinity, Almost Queen, PE5, Garlic, Jones Crusher, The Hasbro's, Surprise Surprise, Opus Forte, The Harris Brothers, and Rhino Caravan. His critically acclaimed solo efforts (over 30 solo albums) have generated sales into the thousands and his songs have emerged in multiple movies, television shows, video games and commercials. 
Cavanagh is also an in-demand session guitarist and producer with over two hundred internationally released cd credits and has an original song catalog that resides in the thousands. Not too mention his Broadway work as an actor and musician in shows like Rock of Ages, The Fab Four, Losing it! and more. 
As of 2021 Cavanagh is gigging and recording with Emerald Rising, Pop Smart Overdrive, Walking the Line (Tribute to Johnny Cash), I Me Mine (Tribute to George Harrison, Bad Animals (Heart Tribute) and solo.These and many other bands can be found under the "Cavanagh's Bands" tab at the top of this page.
Cavanagh also works as a producer and has produced well over a hundred records for artists over the years. In 2020 he produced a hit album for the punk pop band The Knottie Boys and is currently producing records for Color Mask, Jones Crusher, Straddle the Abyss and Zocial. He also is a songwriter who has written for countless artists over the years that generated radio success.  
Thomas Michael Cavanagh is one of the most respected songwriters and musicians alive today and that praise comes from guitar greats like Eddie Van Halen and Brian May to mention a few. He continues to surprise his followers and fans and keeps them anxiously awaiting his next release to see where his musical journey has taken him now.
Thomas Cavanagh proudly endorses Mad Professor Pedals, Intune guitar picks, Friedman Amps, Mystar Cables, and Martin Guitars. 
https://www.martinguitar.com
http://intunegp.com/
http://www.fourstarwire.com/home.html
http://www.mpamp.com/
https://friedmanamplification.com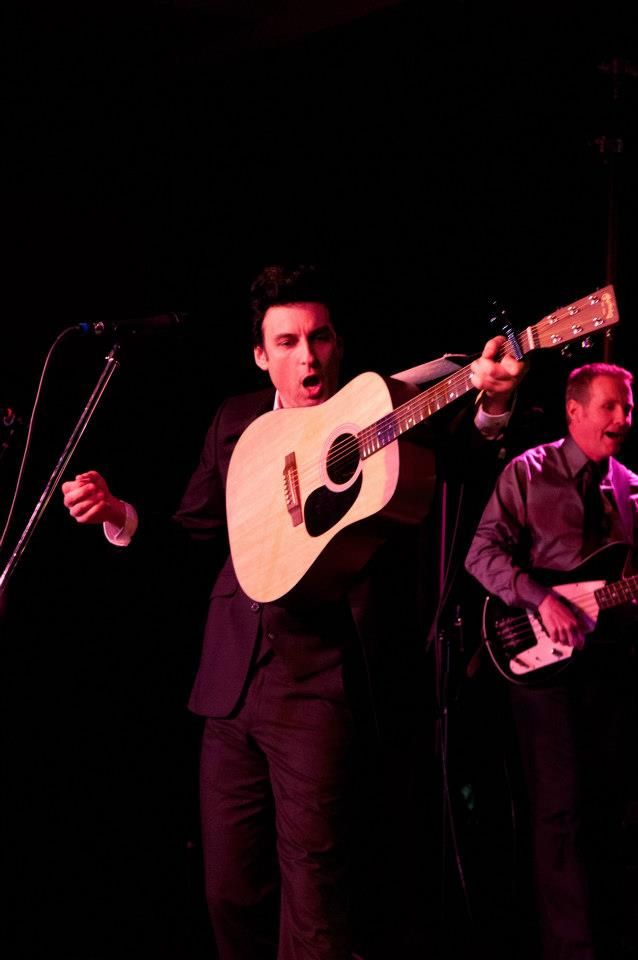 Cavanagh as Johnny Cash in the Walking the Line Production. 
Want to know where Cavanagh is and with who?
Thomas Cavanagh News
Thomas Cavanagh was on the show DCITY LIVE with Walking the Line March 5th. A Replay of the show is available here: https://www.youtube.com/watch?v=XOsXNwBPXe4&t=1s
The debut self titled Emerald Rising Album is available on Vinyl! Limited EMERALD GREEN vinyl. Order yours today at http://www.emeraldrisingband.com its also available on CD and for download on iTunes and many other download platforms. 
Check out the new Emerald Rising video for the song Going Under here 
Check out https://badanimalstribute.com has lots of new updates and 2021 show dates.  
Walkingthelinetribute.com has been updated. New dates and new pictures added. Much more coming. 
Bad Animals appeared on the debut episode of DCITY LIVE. CLICK THIS LINK TO CHECK IT OUT!  https://www.youtube.com/watch?v=ITqmwGzU1XQ&t=448s
The new Jones Crusher album Weird and Strange was produced by Thomas Michael Cavanagh and he even appears as a guest vocalist and slide whistle player. This is an awesome album. Check back for availability. 
The Knottie Boys released a new video for the song Do it again which is from their debut album Modern Day Vampire which was produced by Thomas Michael Cavanagh. Check it out here https://www.youtube.com/watch?v=MjDNOFcqr0w
The Emerald Rising new video for FAR AWAY can be viewed herehttps://www.youtube.com/watch?v=8ZWha04wybA