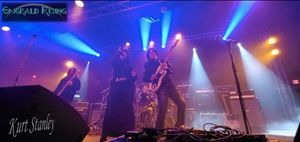 Emerald Rising brings back that 70's flavored hard rockin heavy guitar riffs with driving rhythms and power vocals. The band consists of seasoned musicians from Long Island, NY who have toured all over the world with other bands. All the members have played with each other in different projects for many years. 
Emerald Rising was formed in 2017 by guitarist Thomas Michael Cavanagh and vocalist Daena D. As the song writing progressed, they realized it was time to rock with a full band. They added Chris Parrett on bass and John LaSpina on drums. 
This powerful quartet released their debut self titled album on vinyl, CD and MP3 in January 2021.  You can check out "Enough" their first videos on YouTube (https://www.youtube.com/channel/UC4EmW47N95_CF1ZAmI212EQ) and their Facebook page (https://www.facebook.com/EmeraldRisingBand). The band is gearing up to do a bunch of tour dates and live video appearances in 2021. This band is a must see and defines the definition of hard rock!!!!
For more information check out http://www.emeraldrisingband.com
Thomas Cavanagh News
10/25/22 EMERALD RISING WILL RELEASE TWO CHRISTMAS VIDEOS  AFTER THANKSGIVING. KEEP A LOOK OUT  
10/24/22 BOTH WALKING THE LINE SHOWS AT LAURITA ARE SOLD OUT. THANK YOU. 
cavanagh performs his original instrumental songs with Gary Loock and chis Parrett. a special set of Jeff Beck songs