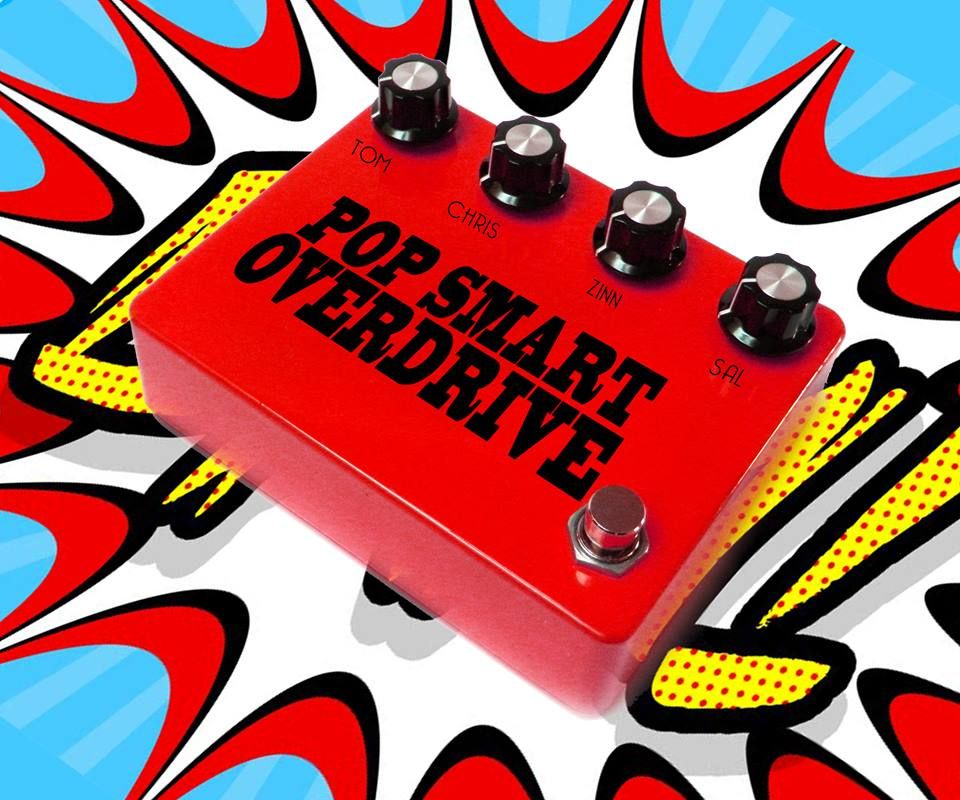 Pop Smart Overdrive is exactly what the band name suggests. Influenced by Cheap Trick, The Beatles, The Foo Fighters The Kinks, Green Day, Nick Lowe, The Ramones, Social Distortion and other greats of power pop history, this band couldn't be more pop rock radio friendly. The Band's only goal is to bring fun back to rock and roll and they do that because quite simply, the band is fun. Just four guys enjoying and appreciating the ability to play enjoyable music together.
The band consists of Thomas Michael Cavanagh (lead vocals and guitar), Chris "Cretin" Zoll (drums), Chris Parrett (bass), Sal "Spydyr" Manteria (guitar). Each band member brings their own personality and experience and most importantly, love of music to create the bands unique sound. 
The band formed in May of 2016 and has opened for some of the Long Islands biggest headliners along with international acts and this summer will be releasing their debut album. 
About each band member:
Lead Vocalist/Guitarist Thomas Cavanagh is the driving force behind Pop Smart Overdrive. His career in music so far has been more than impressive with session work albums numbering into the hundreds, albums of his own music well over fifty, work as a side man for some of the biggest names in rock history like Lita Ford, Jerry Jemmott, years with bands of great success such as Rhino Caravan, Wardance, Bent Pussycat, Jones Crusher, and broadway appearances such as I Am Scarecrow, The Fab Four and Rock of Ages. His unique voice, pop songwriting, blistering guitar solos, witty lyrics and godly tone lay the foundation for the Pop Smart Overdrive sound and direction.
Chris "Cretin" Zoll took his wide range of influences like Alex Van Halen and Marky Ramone and mixed them with his own natural talent for playing the drums to become one of the most popular drummers in the music scene. It seems everyday another band or artist is trying to lure him into their project, and there's a very valid reason why; he kicks ass! Chris fluently plays a variety of styles like  punk, metal, pop, rockabilly, rock and ska as easy as some people speak their native language. Years of listening and collecting vinyl from all genres has created the sound and feel he contributes to Pop Smart Overdrive. Chris is also a bassist, singer and guitarist that often appears solo as well as with other bands when he's not drinking Banana shakes from Checkers. 
From playing guitar in a little bedroom to playing in front of crowds across the United States, Sal "Spydyr" Manteria's crash course into the music world is a continuous evolution.  Influenced by Rock n Roll at a young age thanks very much in part to The Beatles, the range of learning expands from the dirty Blues of Robert Johnson to the blistering melodic attack of Avenged Sevenfold.  Blues, Hard Rock, Metal, Punk you name it, Spydyr has his hand in it somewhere but he always gravitates back to what made him who he is such as The Beatles, Black Sabbath, Guns n Roses and Alice in Chains.  Spydyr is a former member of the hard rock band Midnight Mob and after a 5 ½ year run with them, it was time for a change in pace and departed amicably.  With his time in Midnight Mob Spydyr toured all over the United States, had various TV placements, professional music videos, international music play and released 3 EPs with the band.  The evolution continues and he eagerly awaits the various steps forward into music.  Spydyr plays Gibson Guitars and Marshall Amps.  
Chris Parrett is an active working bass player from New York. He plays on a regular basis in several
original and cover bands working with great musicians.  Chris has taken what he learned
from these A list players and morphed it into a style all his own. His current projects include Bad
Animals The Heart Tribute. Chris gives 100% of his amazing talents and plays an essential role to the rockin groove that defines Emerald Rising. Chris uses Fender Basses, D'Addario strings, Tech 21 preamps and Hartke amps.
Here are some audio samples from the new album for you to enjoy:
Want to know where Cavanagh is and with who?
Thomas Cavanagh News
Thomas Cavanagh was on the show DCITY LIVE with Walking the Line March 5th. A Replay of the show is available here: https://www.youtube.com/watch?v=XOsXNwBPXe4&t=1s
The debut self titled Emerald Rising Album is available on Vinyl! Limited EMERALD GREEN vinyl. Order yours today at http://www.emeraldrisingband.com its also available on CD and for download on iTunes and many other download platforms. 
Check out the new Emerald Rising video for the song Going Under here 
Check out https://badanimalstribute.com has lots of new updates and 2021 show dates.  
Walkingthelinetribute.com has been updated. New dates and new pictures added. Much more coming. 
Bad Animals appeared on the debut episode of DCITY LIVE. CLICK THIS LINK TO CHECK IT OUT!  https://www.youtube.com/watch?v=ITqmwGzU1XQ&t=448s
The new Jones Crusher album Weird and Strange was produced by Thomas Michael Cavanagh and he even appears as a guest vocalist and slide whistle player. This is an awesome album. Check back for availability. 
The Knottie Boys released a new video for the song Do it again which is from their debut album Modern Day Vampire which was produced by Thomas Michael Cavanagh. Check it out here https://www.youtube.com/watch?v=MjDNOFcqr0w
The Emerald Rising new video for FAR AWAY can be viewed herehttps://www.youtube.com/watch?v=8ZWha04wybA